C3.ai Inc. shares gained 23%, the most in 10 weeks, after the company released preliminary earnings exceeding analysts' estimates and said an investigation following accusations from short-sellers found no wrongdoing.
The business environment for enterprise AI "is more active than we have seen since the company's inception and seems to be accelerating," Redwood City, California-based C3.ai said Monday in a statement.
Revenue in the quarter that ended April 30 was as much as $72.4 million, the company said. Analysts, on average, projected $71.3 million, according to data compiled by Bloomberg. Free cash flow was unexpectedly positive for the first time since 2021, though the firm said it will post an adjusted quarterly loss of $23.7 million to $23.9 million.
The shares had tripled in the first quarter of the year as enthusiasm for companies tied to artificial intelligence swept Wall Street, until plunging 26% on April 4 after short-seller Kerrisdale Capital alleged "serious accounting and disclosure issues" at the enterprise software developer. The stock closed at $23.97 Monday in New York.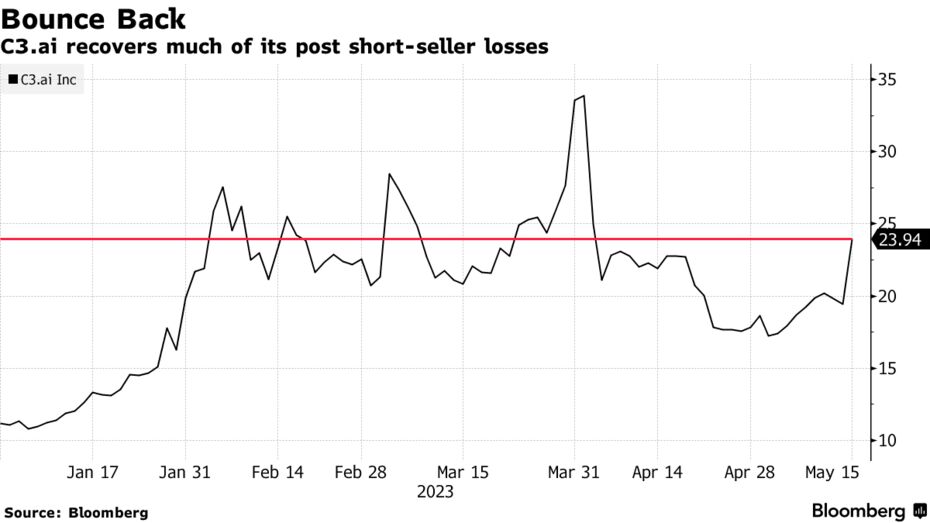 Releasing fiscal fourth-quarter results early had "nothing to do with the short-sellers," Chief Executive Officer Tom Siebel said in an interview. It was done to avoid any "selective disclosures," as an unusual number of people knew the figures due to year-ahead planning, he said.
In a separate statement, C3.ai's board audit committee said that an investigation following reports from Kerrisdale and Spruce Point Capital "found that that none of the allegations or insinuations of wrongdoing" were "supported by the facts." Siebel said no company executives outside of the audit committee were involved in the review.
The software maker announced in December that it would switch all new business to consumption model pricing — a pay-as-you go system similar to a homeowner's utility bill — in the hopes of making it more attractive to new customers. Commentary about accelerating demand in the results is a positive sign for the transition, Arvind Ramnani, an analyst at Piper Sandler, wrote in a note.
Despite the sales increase, there is still uncertainty over how much revenue came from major customer Baker Hughes Co., as well as the conversion rate of new customers, wrote Joshua Tilton at Wolfe Research.
Sahm Adrangi, chief investment officer at Kerrisdale Capital, said C3.ai's preliminary results don't answer questions about over-reliance on revenue from Baker Hughes, a jump in unbilled receivables and other issues. Kerrisdale is still short C3.ai shares, he said.
Read the full article here.