C3.ai facilitates China's utility digital transformation' in partnership with DHC Software' increasing the safety' reliability' and cost-effectiveness of the world's largest power grid
Redwood City' Calif. – March 8' 2016 – C3.ai™ president and CTO' Ed Abbo' gave the opening keynote address at the China International Internet of Energy Summit 2016 conference in Beijing on March 3' 2016.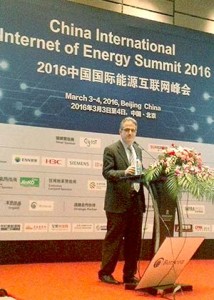 Abbo explained that the industrial Internet of Things is rapidly emerging as a strategic competitive advantage that delivers significant economic value' and shared use cases of large' global corporations deployed at scale on the C3 Platform™.
The event also showcased C3.ai's partnership with DHC Software ' one of Asia's best companies under a billion' according to Forbes' [1] during a standing room-only session. Together' the companies will leverage C3.ai's proven' elastic cloud' big data analytics' and machine learning-based IoT applications to advance the efficiency and resiliency of China's power grid from generation' transmission' and distribution' through to energy consumption and the expansion of renewable power. DHC Software and C3.ai will facilitate the deployment of applications that support predictive decision making' optimize operational efficiency' minimize industrial risks' and provide enormous economic and social benefit through the integration' processing' and analysis of data.
"It's an honor for the DHC Software Company to partner with C3.ai in developing the Internet of Energy in China'" said Mr. Xue Xiangdong' Chairman' DHC Software Company. "Today our companies are providing big data analytics for China's power industry with the C3 Platform and tools. In the future' our cooperation will extend to additional industries' including energy production' smart cities' smart healthcare' telecommunications' and more. This is an important time in China's digital transformation."
C3.ai recently expanded the application of its C3 Platform to provide a full-stack IoT development platform to address the requirements of enterprise markets' including oil and gas' manufacturing' aerospace' automotive' chemical' pharmaceutical' telecom' retail' insurance' and financial services companies' as well as public sector organizations.
[1] Forbes' "Asia's 200 Best Under a Billion'" June 2015 (http://www.forbes.com/companies/dhc-software/).