Interview with CNBC Co-Anchors Andrew Ross Sorkin' Joe Kernen' and Michelle Caruso-Cabrera
On Tuesday' December 20' C3.ai CEO Tom Siebel appeared on CNBC Squawk Box to discuss the industrial Internet of Things' the future of enterprise software' and the market players poised to capitalize on the emerging market opportunity.
Co-anchor Andrew Ross Sorkin (also a financial columnist for the New York Times) led a lively discussion about the potential economic impact of the Trump administration's plan to expand infrastructure programs in the U.S.' and which companies are likely to be market winners.
Siebel's observations include:
"The President is going to make massive investments in critical infrastructure – in the last mile' in highways' airports' and smart cities. All of these value chains will be sensored in order to really optimize everything from traffic flow to safety to cybersecurity. It will require an entire new generation of software."
"Amazon Web Services is a winner. What Amazon is doing with IoT is changing everything."
"We sit on top of Amazon's platform and enable these large-scale' IoT' big data' predictive analytics applications for the largest corporations in the world."
"We go to market with Amazon in a huge way."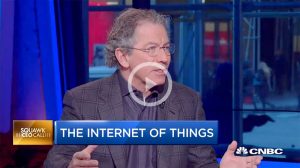 Watch the CNBC Squawk Box segment here:
http://video.cnbc.com/gallery/?video=3000577678
Squawk Box is CNBC's signature morning program focused on early-morning analysis of breaking news from the financial markets. The biggest names in business and politics appear on the show to offer their opinions on the day's top stories.