Sometimes, the waters can be muddy when a technology company defines its specialty. At a time when technologies consistently cross over, and the combination of tech advances and hype drive up customer expectations, some software firms attempt too much too quickly in order to stay competitive and capitalize on an opportunity.
When a company positions itself as an enterprise AI platform and applications developer, it would be easy to have some skepticism about what exactly the product line includes and how to complete it is. However, C3 AI has, over 14 years, methodically built its AI engine and over 40 industry and horizontal applications while investing vast sums in developing a complete enterprise AI suite. The C3 AI lineup demonstrates a series of critical differentiators at a time when the term "AI" has quickly become a synonym for technological advances and seems to be almost freely attached to platforms and applications of all types.
Who They Are
Headquartered in Redwood City, California, C3 AI was founded in 2009 by Thomas Siebel and Patricia House. The company was created to deliver AI software to enterprise clients.
However, as Siebel said in an interview, the company's true value has only been understood and realized as the technological landscape has matured and C3 AI has emerged as a solution to business pain points — think Covid-driven supply chain disruptions — that have been experienced globally in recent years.
"I don't think there was a problem when we started," says Siebel. "We were looking at what we thought would happen next in information technology."
"It occurred to us that the next big explosions in information technology were going to be in elastic cloud computing, which turned out to be a very good guess. The phenomenon of Big Data — that happened. And the phenomenon of IoT, which was just a glimmer in people's eyes in 2008, and now we have hundreds of billions of sensors out there."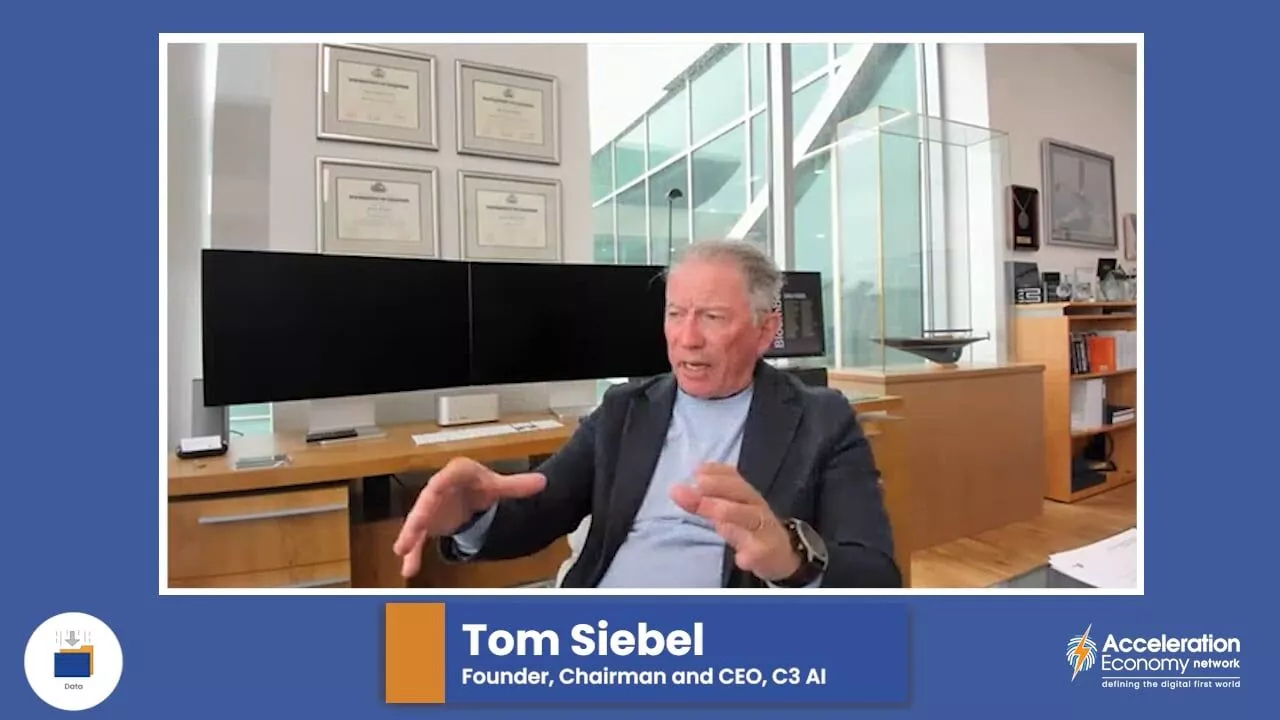 "At the confluence of these technologies, we could build applications in the area of predictive analytics — a specific application of AI to business processes. What we're doing is applying AI to normal business processes."
Siebel has an illustrious history as a tech innovator, having successfully steered his application software company, Siebel Systems, into a lucrative merger with Oracle in 2006. CTO and President Edward Abbo is the former SVP of Engineering and CTO at Siebel Systems. While President and CPO, Houman Behzadi is another former Siebel Systems and later Oracle executive.
In its most recent financial report, for the third fiscal quarter ended Jan. 31, C3 AI reported quarterly revenue of $66.7 million, with subscription revenue making up 86% of that figure. Its GAAP loss per share was 57 cents, and non-GAAP loss was 6 cents per share. The company reported a customer count of 236.
What They Do
C3 AI's portfolio can be neatly divided into three pillars that constitute a complete enterprise AI suite: AI apps, development tools, and an integrated AI platform.
C3 AI features a comprehensive set of 40 plus out-of-the-box applications that collectively cover the needs of enterprises across industries and functions. The range of these use cases and apps includes: AI CRM Suite, Reliability Suite, Supply Chain Suite, Sustainability Suite, Defense and Intelligence Suite, Financial Services Suite, Oil and Gas Suite, and the Public Sector Suite.
C3 AI is committed to solving the most pressing business and societal challenges through enterprise AI. Over the past decade, we have spent over a billion dollars developing a cutting-edge enterprise AI platform and a suite of industry-specific AI applications."
― Edward Abbo, President and Chief Technology Officer, C3 AI
Edward Abbo, President, C3 AI
"Today, C3 AI's solutions are transforming the world's largest organizations like Shell, Cargill, and the U.S. Air Force, helping address priority issues like supply chain disruptions, ESG performance management, or unplanned downtime for critical assets and realizing billions of dollars in annual economic benefit in the process," Abbo added.
Turnkey applications are a key differentiator when comparing C3 AI with other AI providers because they focus on specific tasks, taking the technical complexity out of introducing AI into various business processes such as anti-money laundering, CRM, inventory management, and more.
C3 AI's development tools include no-code, drag-and-drop examples in its Ex Machina suite and more in-depth, developer-focused options in the C3 AI Studio. The Studio suite contains a wealth of tools in a low-code environment, again emphasizing UX as a core benefit of the technology.
Finally, the C3 AI Platform helps users to accelerate app deployment by reducing development time. The technology uses a unique "abstraction layer" that enables developers to test AI app components using conceptual models instead of committing to a fully-coded trial run.
Siebel explained the importance of predictive analysis in the C3 AI offering.
"If we look at the application of IT in a business process, this is ERP, CRM, manufacturing supply chain, what have you," says Siebel. "Those applications report retrospectively on what the state of the business was last quarter or last year. "
"When we sit on top of all these systems and make those applications predictive, rather than simply tell us what our inventory levels were, they tell us what our inventory levels of each component need to be so we can maximize production and deliver on time in full."
"This is what enterprise AI is about. This is what predictive analytics is about," he says.

The sharp increase in attention given to AI provides C3 AI the opportunity to bring its industry-specific apps into a strategic business discussion with customers. It also creates the opportunity to simplify complex business processes, deliver real value to customers, reduce the risk associated with 'shiny new toy' syndrome, and provide insights into previously murky areas."
― Aaron Back, chief content officer, Acceleration Economy and AI/Hyperautomation analyst
Who They've Impacted
C3 AI has an impressive roster of clients across multiple sectors. One of the most prominent industries is oil and gas. In 2022, C3 AI enabled one of its core clients, Shell, to increase its use of AI-powered predictive maintenance to support over 10,000 pieces of equipment across the company's global infrastructure.

Shell is one of the largest C3 AI customers
C3 AI's predictive maintenance application, which ingests 20 billion rows of data from over three million sensors every week at Shell, is enabling the company to address issues before they happen. In addition to saving the company huge sums of money by preventing potential downtime, the technology is helping Shell to create a safer working environment for employees and, crucially, helping to avoid potential environmental disasters.
"Monitoring 10,000 pieces of critical equipment with AI-enabled predictive maintenance is an important milestone for Shell — an ambitious target we had set for 2021 and successfully achieved," Dan Jeavons, vice president of computational science and digital innovation at Shell, says in a C3 AI news item. "We have an exceptionally talented team to thank for this accomplishment, as well as partners like C3 AI, whose technology helped us reach this level of scale in our predictive maintenance program."
What's Next?
For 2023, C3 AI is doing a lot with generative AI. "We're using generative AI in a very unusual way," says Siebel. "Generative AI for us is not about chat, it's about using these large language models to fundamentally change the nature of the human-computer interface." C3 AI has already launched its Generative AI Product Suite, with C3 Generative AI for Enterprise Search as the first use case.
Beyond this, C3 AI is focusing on expanding its application portfolio, with plans to increase from around 40 to 200 by the close of the year, Siebel says.
Why C3 AI Is a Top 10 AI/Hyperautomation Enabler
Moving forward, as companies look more and more to AI to handle problems at an enterprise-wide scale, C3 AI is firmly established as a leading provider of scalable AI technology. Our practitioner analysts selected the company to be on our Top 10 shortlist because:
C3 AI targets enterprises with dedicated AI applications that don't require complicated configuration
The platform is highly scalable and can handle vast swathes of data, while its AI applications are robust enough to deliver pinpoint accuracy
C3 AI is developing new ways to harness emerging technologies including generative AI
C3 AI supports no-code AI modeling and democratized access and publishing
Customer endorsements, including the corporate giant Shell, lend credence to the company's claims that it is the most robust enterprise-class implementation of AI functionality
Read the full article here