Shell.ai has been awarded the "Data to Decisions" SuperNova Award by Constellation Research, which recognizes organizations employing big data and predictive analytics to make informed business decisions.
Led by General Manager of Data Science Dan Jeavons, Shell.ai is a change program, formed along with a Center of Excellence, to drive a common approach to data science platform technology, to develop consistent ways of working and adopting technology, and to build a community of practice for the entire business.
A team of judges, including analysts and subject matter experts from academia and the press, evaluated competitors on several key benchmarks: disruptive technology that emphasizes overcoming adversity, business model transformation, and performance. Winners were selected through a combination of industry judging and public polling.
The judges highlighted the impressive ambition and reach of Shell's predictive maintenance program and noted Shell's strong overall approach and performance in embedding AI at scale.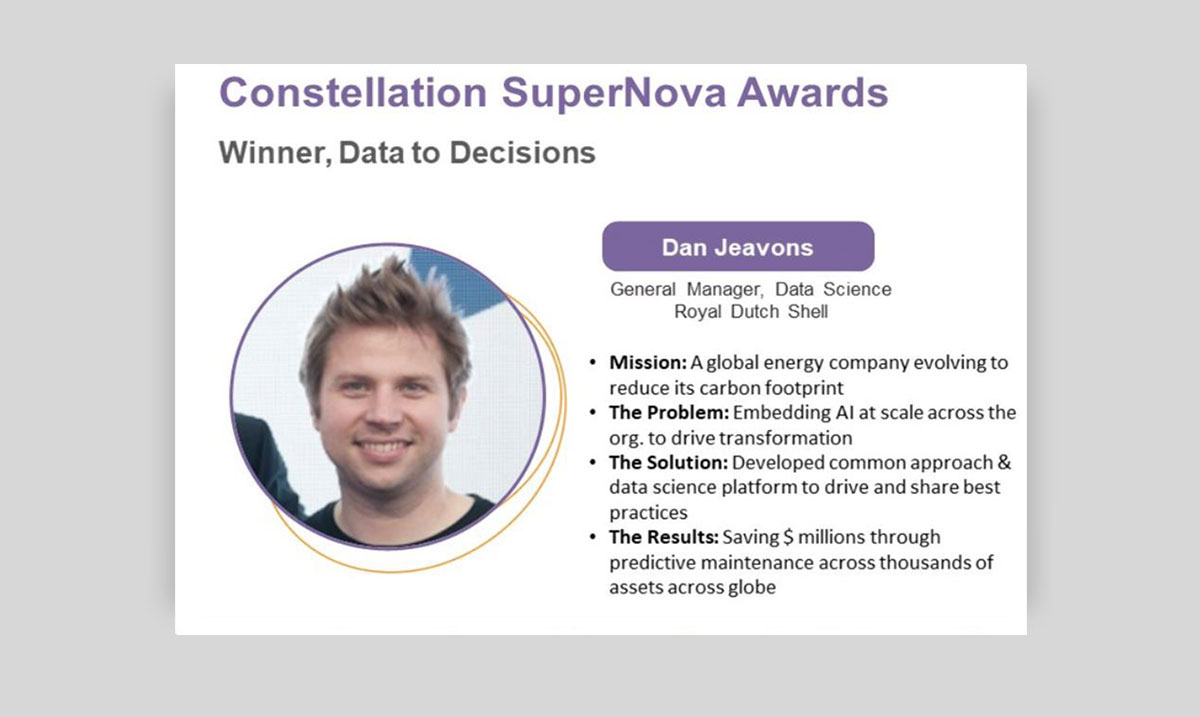 Shell currently works with technology partners C3.ai and Microsoft to develop solutions that scale and can be reproduced globally. With this support, Shell has moved from proof of concept and pilot projects to true production scale for AI. The Shell.ai platform uses the C3 AI® Suite to develop, deploy, operate, and replicate enterprise-scale AI applications. Underpinning the application technology is a massive data lake which ingests trillions of rows of time series data into Azure Data Lake Storage. Most importantly, the company has captured the imagination by showcasing the art of the possible and driving change – and even further value from AI – across the business.
This honor reflects the dedication and vision of the Shell.ai, C3.ai, and Microsoft teams. Together, we have made considerable inroads towards the goal of delivering solutions on the journey towards Shell's "Zero Trips by 2025."
For more information, visit https://www.constellationr.com/about-supernova-awards/supernova-awards-2020.