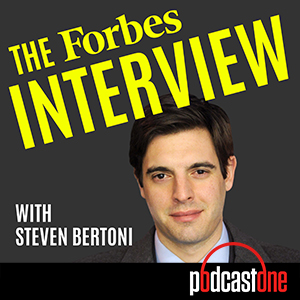 The Forbes Interview with Steve Bertoni:
Tom Siebel Tech Titan Talks Internet of Things and Elephant Attack
Forbes editor Steven Bertoni sat down with Silicon Valley legend Tom Siebel for a wide-ranging discussion about the disruptive impact of AI and IoT for "The Forbes Interview" podcast.
In an episode called "Tom Siebel Tech Titan Talks Internet of Things and Elephant Attack'" Siebel provided his insights on the most significant technology vectors of the 21st century – big data' elastic cloud computing' AI' and IoT – and his leadership of C3.ai.
Siebel explained that C3.ai is applying a step function in information technology to solve heretofore unsolvable problems – AI-based precision medicine' predictive maintenance' fraud detection' dynamic supply chain optimization' and more – to create substantial' positive social and economic benefit. The world will be a better place.
The interview concluded with Siebel's provocative prediction: many of the big brand-name companies that people recognize today will cease to exist in five to 10 years' due to a mass extinction event happening now in the corporate world caused by digital transformation. The organizations that survive' and the new ones that emerge with AI and IoT in their DNA' will have reshaped business processes' management practices' and information systems' as well as the nature of customer relationships. The existential threat of digital transformation is exceeded only by the opportunity.
Listen to the podcast here: Tom Siebel Tech Titan Talks Internet of Things and Elephant Attack